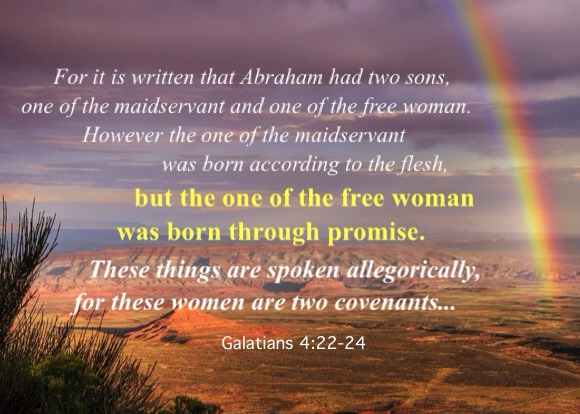 Galatians 4:22-24 For it is written that Abraham had two sons, one of the maidservant and one of the free woman. However the one of the maidservant was born according to the flesh, but the one of the free woman was born through promise. These things are spoken allegorically, for these women are two covenants, one from Mount Sinai, bringing forth children unto slavery, which is Hagar.
…if we want Christ to inherit the land and if we want to stand for God, we should not try to bring Him in by ourselves. We should not act or do anything by ourselves. We have to put ourselves aside. This is the greatest and hardest test. This is where God's servants most frequently fail. We must remember that God's work must not only be free from sin; it must be free from our own efforts as well. God is not only asking how well a work is done, but who is doing the work. Unfortunately, it is easy to exhort men to forsake sin, but it is not easy to exhort men to forsake self-effort. May God bring us to the point where we can say to the Lord, "I want to do Your will! You are within me and You must enable me to do Your will. I am not here to do Your will by myself! It must be You, not I!" (The God of Abraham, Isaac, and Jacob, ch. 4, by Watchman Nee)
Your Comment: Your Enjoyment!
comments